Pumpkin and Date Cake
Thursday 17 th September 2015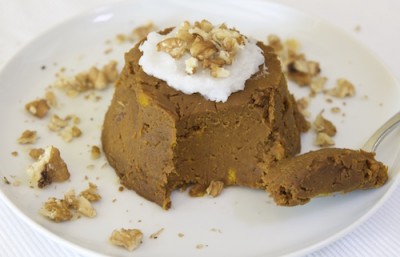 This cake has a moist creamy texture like a pudding and it contains only pumpkin and dates as basic ingredients. It is possible to do lots of different recipes: with nuts, with different fruits, coconut, chocolate, carob, vanilla, cinnamon, etc.
gluten-free, dairy-free, eggs-free, nuts-free, sugar-free, full GAPS diet
Ingredients
Basic ingredients:
500 gr. pumpkin, better potimarron (without seeds and peeled)
150-175 gr. dattes (pitted)
Optional ingredients:
Depending on your intolerances, you can choose from the following options:
* Choose the desired taste with cocoa, carob, coconut, vanilla, cinnamon, ginger, etc.
* In order to make it more creamy, add a little bit coconut butter or cream (take only the grease of natural coconut milk), 2 tbsp approximately.
* Add some banana or any other fruit pure, in order to get a soft cake, for example, 1 or 2 bananas.
* If you add 1 or 2 eggs to the butter and then you bake in the oven, you will get a more spongy cake.
* You can add almond powder or some chunks of nuts to get a crunchy texture, like a brownie.
* You can use agar-agar, gelatine or some eggs, together with 100 ml of vegetable milk, to get a flan like texture.
Crust of the cake
Optionally, you can also make a base for the cake. There are lots of different options of crusts for cakes, depending on your intolerances. Here there are some examples:
*
Almond, with eggs, crunchy crust
*
Almond, eggs-free, crunchy crust
*
Sponge cake
* Toast, for example, "Pain des fleurs" of quinoa, buckwheat, chestnut, coconut, cocoa, etc.
*
Raw almond
*
Pancakes
Instructions:
Cut pumpkin (potimarron), take the seeds out and cook in the oven about 20-25 minutes (depending on the size and type of pumpkin) at 180ºC or 30-35 minutes at 160ºC. When it's cooked, let if cool down. Peel it and blend it.
Blend pitted (without pits) dates. Use a powerful blender, because dates are very sticky and some tools can't blend them. I've already burn one! I prefer Deglet Nour dates, but if you prefer some other sweeter dates then you can decrease the amount.
Mix pumpkin pure, dates pure and the optional ingredients.
Stir the batter in the chosen mould: flan, individual cakes, big rectangular cake, or over the crust.
Demould and decorate.
Comment
: If batter is too liquid, it's probably because pumpkin has been cooked for too much time. Pumpkin must be baked "al dente".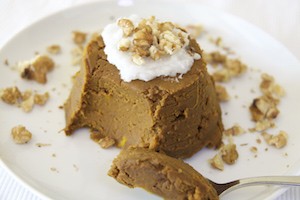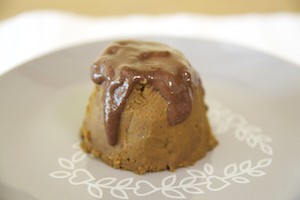 Examples: 500 gr. potimarron, 150 gr. Deglet Nour, 1 tbsp coconut butter, 1 tbsp cocoa powder
Decorations: coconut butter and walnuts (left);
chocolate cream
(right)