Chestnut pancakes
Sunday 4 th October 2015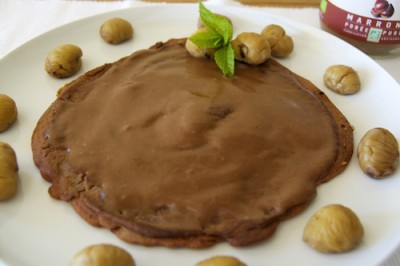 The season of chestnuts is coming, now you can enjoy this interesting food to make delicious desserts.
Chestnuts are sweet, so then you don't need to add any product to sweeten. In this recipe, we explain how to make pancakes using only chestnut flour, water and one egg as ingredients. And some oil for frying.
You can add the topping you prefer: fruit puree, chocolate or carob cream, home-made ice-cream, honey, etc.
gluten-free, dairy-free, sugar-free
Ingredients
130 gr. chestnut flour or mix chestnut-rice
200 ml de l'eau
1 egg
oil (better coconut oil)
Instructions:
Heat the pan with coconut oil at medium temperature.
Mix flour with half of the water until it's well absorbed.
Add egg and mix again.
Repeat again pouring water until it's all mixed.
When oil is hot, pour some tablespoons of the batter in the pan, and spread with the spoon to give the round shape of the pancake and the thickness that you want.
Cook until it's lightly brown and it doesn't stick in the pan.
Cook to the other side until it's lightly brown at this side.
Serve with your favourite topping!