Christmas White Cake
Sunday 13 th December 2015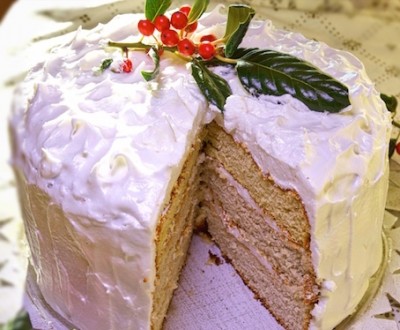 This beautiful cake is very easy, although it takes some time.
You will have to bake 3 basic sponge cakes and a big amount of frosting to fill between every layer and to cover the cake.
It's possible to use different ingredients, depending on the intolerances of every family, but there are some basic ingredients: flour (rice, coconut, almond, chestnut, …), eggs and some sweetener.
gluten-free, dairy-free, full GAPS diet
Options for the sponge cake:
Depending on the kind of flour and sweetener you have the following options:
*
Rice flour and sugar
*
Almond flour and honey
(for GAPS diet)
*
Coconut flour and dates
But it's also possible use chestnut flour, manioc flour, potato starch, etc., depending on the intolerances.
Concerning the sweetener, you can also use other sirups, stevia, etc.
Options for the frosting:
Here you may find some options for the frosting.

Whipped Frosting:
In this case, in order to have the same decoration as shown in the photo, that is, with peaks, you need to make whipped egg whites with icing sugar.
For this cake, I needed 6 egg whites, 100 gr. icing sugar and the juice of 1/4 lemon.
In order to make the whipped frosting, you need to use a balloon whisk or a food processor to beat the egg whites until frothy. Slowly add icing sugar while still beating, and then the lemon juice.
Cover the upside of every sponge cake with this frosting and stack them up.
Cover the upside of the cake with the whipped frosting and make peaks with a palette knife, scuffing it up slightly to get little peaks.
Repeat the same process in the sides.
It's better if you first cover the cake with a first layer, let it harden a little bit, and then give a second layer.

Coconut:
Another option may be using coconut cream or coconut butter with a sweetener, and then sprinkle with shredded coconut. The decoration is slightly different, but it's also very pretty, as you can see here.

Other options:
There are many other options. For example, you may use a different filling, using jam or fruit puree.