Snowmen
Monday 14 th December 2015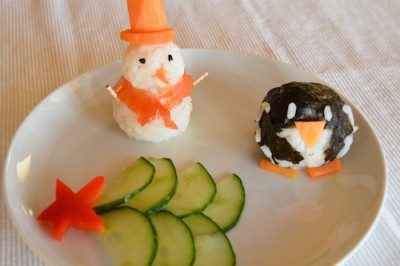 In winter children love to make snowmen, even if there's not snow, so you can make some in the kitchen!
From rice or any other ingredient you can make balls with, and then covering them with some white coloured ingredient and making some decorations, you will get funny snowmen, penguins, Santa Claus, etc.
gluten-free, dairy-free, nuts-free, eggs-free, sugar-free

Rice Snowman


Ingredients:
1 or 2 cups of glutinous rice (such as the one to make sushi)
1.5 or 2.5 cups of water
salt
carrot
tomato
toothpicks
1 sheet of Nori for sushi
Instructions:
1.- Rinse rice with water several times
2.- Put rice in a cooking pot, add water and salt
3.- Cook at low temperature with the lid on during 15-18 minutes (follow the instructions on the packet)
4.- Let it cold down during some hours.
5.- Take a spoon for ice-cream, if you have one, wet it with water or vinegar and make a ball of rice. If you don't have a spoon for ice-cream, use a tablespoon.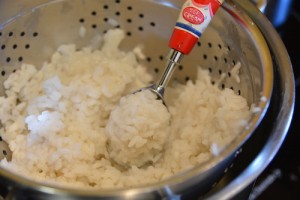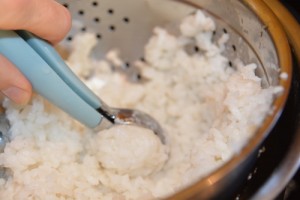 6.- Give round shape with hands
7.- Repeat the process to make another ball, a little bit smaller, using a teaspoon.
8.- Put the small ball on the big one.
9.- In this example, we have cut a carrot in order to make a hat; the buttons have been made with Nori seaweed; and the scarf with tomato skin. Let the imagination of your children create different decorations! (paying attention to avoid accidents)
Rice Penguin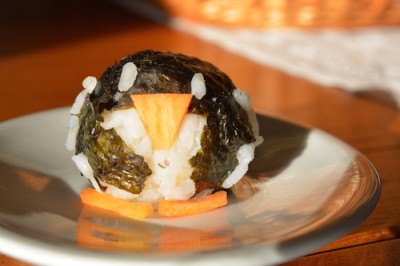 The process is the same as the Rice Snowman, but we have used mainly Nori seaweed in order to do the decorations.

Snowman made of date balls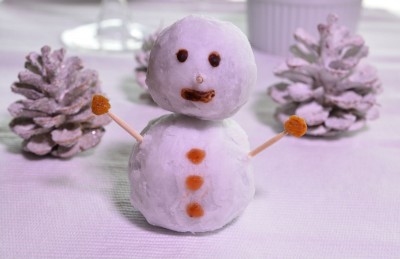 You may use
this recipe to make date balls
and then cover them with coconut butter.
In order to do the frosting, I've first covered one half of the ball, then I've let the butter to harden in the fridge before covering the other half.
Then, I've given another layer of coconut butter.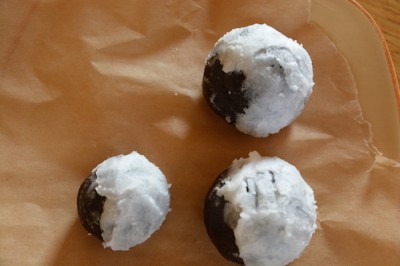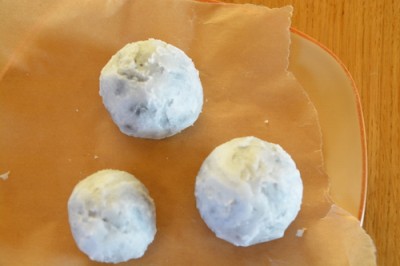 Coconut butter must be at room temperature in order to easily spread on the balls.
For the decorations, I've used melted dark
chocolate
for the eyes and mouth using a toothpick, but you may use some professional frosting device, as it's shown in
this other recipe
.
I've used red currant puree for the buttons.
In order to hold both balls together, you may poke a toothstick in the bottom of the small ball and the top of the big ball.