Watermelon Gazpacho
Wednesday 21 st June 2017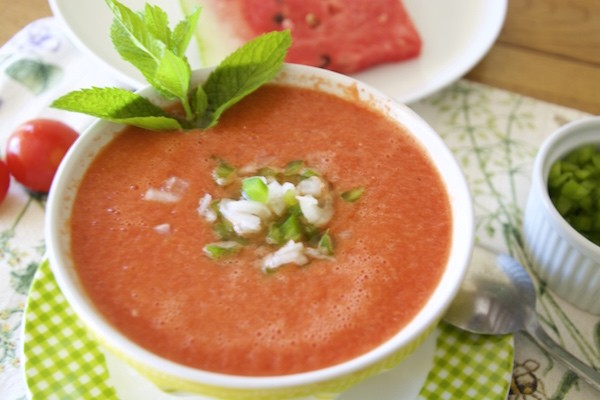 Gazpacho is a very refreshing entrée dish that is traditionally eaten in the summer in Spain. Gazpacho is usually made of tomato, onion and cucumber, but in the last years watermelon gazpacho has begun to spread in Spanish restaurants.
You can adapt the ingredients depending on the family preferences: the ratio between tomato and watermelon, avoiding onion if the children doesn't like it, etc.
Watermelon gives a sweet taste and together with the savoury test of the classical gazpacho creates this sweet and salty delicious taste.
Ingredients:
2 red tomatoes
500 gr watermelon
1/4 onion
1 cucumber
1 tbsp olive oil
1 tsp salt
1/2 red bell pepper
optional:
1 tbsp apple vinegar
pepper

Instructions:
Blend the roughly chopped tomatoes, onion, bell pepper, cucumber until puréed.

Prepare the watermelon removing the seeds.

Add the watermelon into the blender and pulse altogether until smooth.

Add the rest of ingredients and blend again until well mixed.

If there are some rest of tomato skin or watermelon seeds you can strain the puree to remove them.

Pour into a large bowl.

Keep in a fridge for at least 2 hours.

Pour in bowls to serve and add finely chopped onions, bell pepper, cucumber, boiled eggs, avocado slices, etc. depending on every the preferences of every person. You may also decorate with cherry tomatoes, herb mint or parsley leaves, chopped cilantro, etc.