Savoury cake
Saturday 14 th December 2019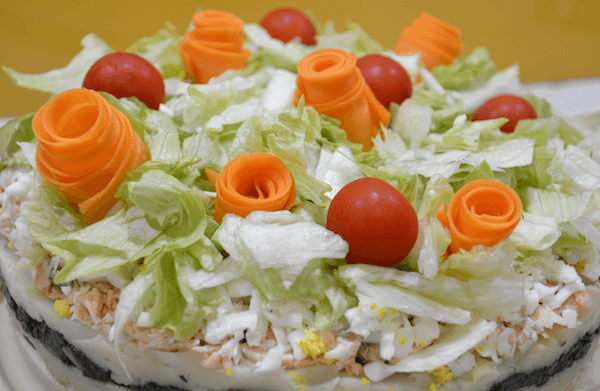 A simple everyday meal can become a festive dish if it is presented as a cake. Simply by using a cake mold, place several layers of different foods and decorate the top.
The cake allows for different variants. The image shows one made of potatoes, spinach, salmon, egg and salad.
Ingredients:
Mashed potatoes: 1.5 kg potatoes, 1 garlic clove, olive oil or deodorised coconut butter
Spinach Catalan style: 750 g frozen spinach, 30 g pine nuts, 40 g raisin
400 g fresh salmon
4 eggs
Decoration: lettuce, cherry tomatoes, 1 big carrot
salt and olive oil
Instructions:
Mashed potatoes:
Boiled potatoes in salted water.
Smash potatoes with a fork or a potato masher tool.
Grate garlic and mix with potatoes.
Spinach Catalan style:
Defrost spinach and drain it well.
Fry the pine nuts in olive oil and then lightly fry the raisins.
Mix with spinach.
Salmon:
Simmer salmon for about 8-10 minutes (depending on the thickness).
Add salt and crumble the salmon using your fingers.
Eggs:
Cook the eggs in boiling water for about 15 minutes.
Separate the yolks from the whites.
Grate the egg whites and crumble egg yolks using your fingers.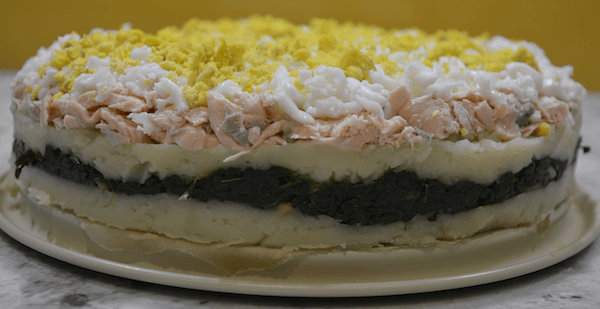 Decoration:
Chop 3 or 4 leaves of lettuce and reserve in the fridge.
To make carrot flowers:
Peel the carrot.
Make strips with the peeler.
Roll strips and hold with a toothpick. Reserve in the fridge.
Here
you can see how to do it.
Cake: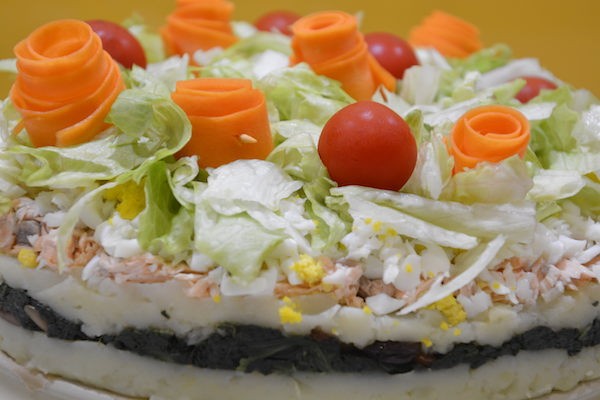 Place the first layer of mashed potatoes.
Cover with the layer of spinach.
Place another layer of mashed potatoes.
Place the salmon on top.
Cover with the egg whites and then egg yolks.
Finally, just before serving, decorate with lettuce, tomatoes and carrot flowers.
This recipe has been inspired by "Recetas de casa LM":
PASTEL O TARTA SALADA SIN HORNO RECETA PARA NAVIDAD
y
PASTEL O TARTA SALADA PARA NAVIDAD FÁCIL
Other versions:
It is possible to do a cold cake, adding mayonnaise in every layer.
You can use rice, sweet potato, quinoa, etc. instead of potato; or don't use any starch if following GAPS diet.
Instead of salmon it's possible to use chicken, turkey, or any fish or seafood; or without any meat or fish for vegetarians.
Any kind of vegetable is fine. The only condition is that it must not be very wet; so if tomatoes are used, for example, then the core part with the seeds and water must be removed.